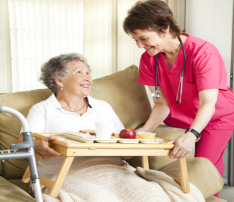 Alpha Home Health Care provides complete home health care services throughout the state of Maryland. We are happy to give you the care you need in order for our patients to overcome their illness and return to their normal life.
We help in your fast recovery by giving you comprehensive healthcare services through proper implementation of each medical task by our compassionate and experienced health experts.
Our Mission Statement
To provide our patients with comprehensive care through accurate diagnosis, creation of the proper care plan and efficient implementation of medical tasks of our professional health staff.
Our Staff
Our reliable and compassionate health professionals are well evaluated to ensure that they are highly qualified to carry out various critical health tasks. We value our patient's wellness, so we take high importance in the employment of all our staff. They have undergone extensive pre-employment process and thorough background check to ensure the safety of all our patients.
All of our staff is secured, licensed and well-trained in accomplishing their tasks.
Set an appointment with us today. If you have any questions, feel free to Contact Us.